Marinetek and RMS complete new Super Yacht Marina and Mega Yacht Berthing Facilities in Old Doha Port.
Marinetek and RMS complete new Super Yacht Marina and Mega Yacht Berthing Facilities in Old Doha Port.
Marinetek has a strong presence in the Middle East with numerous large-scale projects delivered over the years. Few years ago, the presence was further strengthened by a collaboration with RMS – Ruwais Marine Services, a Qatar-based company specialized in marine and offshore industry – to promote Marinetek's marina solutions in the State of Qatar.
This collaboration quickly developed into a closer alliance with RMS starting to produce concrete pontoons in Qatar under a license, and with design and quality control support from Marinetek. RMS is the first local company to produce specialized, high quality concrete pontoons and build marinas in Qatar.
RMS and Marinetek have already delivered several projects in Qatar, among others, to Hamad Port, Qatar Armed Forces, Coast Guard, Special Forces and, most recently, the Supreme Committee for Delivery and Legacy (SC), the committee responsible for all projects related to the FIFA World Cup Qatar 2022.
The project awarded by SC was to design and build a new Super Yacht Marina and Mega Yacht Berthing Facilities for the Old Doha Port, with only three months to execute the whole project.
The marina project included two parts, floating pontoon with Med-mooring for yachts up to 70 m long and Med-mooring installation to fixed pier for vessels up to 131 meters.
The floating marina consists of twenty Marinetek Super Yacht Pontoons, moored with combination of chain and rope connected to up to 40-ton concrete anchors. Pontoons are equipped with 20-ton stainless steel bollards, WPC decking, solar lights, utility ducts and three 20 m gangways. Yachts are moored with Med-mooring and, due to the sizes of the yachts, the anchoring is extremely strong with concrete anchors up to 60 ton per mooring line. Total number of 20-ton concrete anchors for the marina is 165, all embedded down to seabed level.
Second part of the project was the Med-mooring installation for vessels up to 131 m to the marina's fixed pier. The maximum load for a single mooring line is over 1400 kN, with 80-ton concrete anchors embedded down to seabed level.
The project was delivered on time before the World Cup, and the new marina is now ready to serve a total of 56 yachts sized from 40 to 131 meters. After the games, the marina will continue to serve super and mega yachts visiting Doha.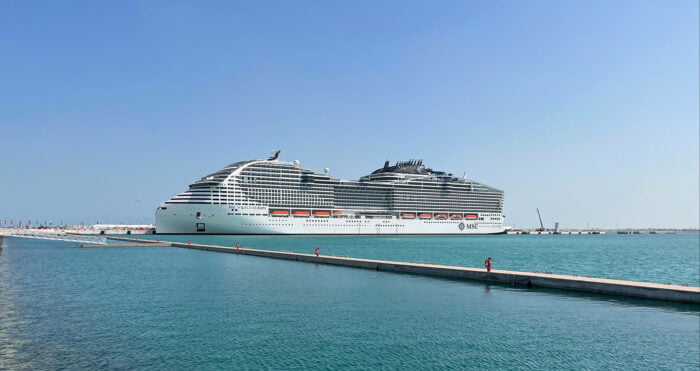 Marinetek prides itself as the industry leading operator with particular focus in sustainability and health and safety. All work was executed under strict health and safety regulations and supervised meticulously. Therefore, we proudly note that our project in Qatar was completed with precise compliance in accordance with health and safety regulations, and with zero LTI.
This marina project is the first of its kind in the State of Qatar and therefore another historical landmark for the Marinetek–RMS alliance. And this is not the end of the alliance. Marinetek and RMS are currently targeting another unique project that is unprecedented in Qatar – and hopefully another step in a long story of successful joint projects.
SHARE